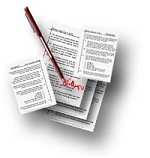 Following are examples of actual contracts that are used by PCF Investment Group, Inc. in our day to day real estate investment business. These are being provided to you as "examples" to hopefully spur ideas of ways you can modify your own contracts to better protect yourself and to put more profit in your pocket.
We are always reviewing others contracts looking for little clauses and ideas for improvement. We do however prefer to keep our contracts as short as possible so that they are easy to understand and easy to get signed. It is not hard to end up with contracts that are so long that they spook potential buyers or sellers. Remember, "a confused mind always says no" If you contract is four pages long with a bunch of legal mumbo jumbo then you are going to have a lot more potential clients saying either "no" or "can I take this contract to an attorney before I sign it?"
Join our newsletter and we will send you the above files in unprotected Microsoft Word Format so that you can easily copy, paste, make changes etc. You will also benefit from...
Free copy of Internet Marketing For The Aggressive Real Estate Investor eBook
Techniques, secrets and tips on real estate investing.
Marketing techniques that drive buyer and sellers to you.
How to grow and automate your business.
Recommendations that will save you time and money.
Property management tips.
Valuable financing and cash flow ideas.
Negotiating strategies.
Free forms and much, much more!
Join today and we will also email you bonus information that will show you how to get your rents on time, every time.
If you are still collecting rent the old fashioned way this will be a real eye opener.
If you already subscribe to our newsletter then please don't sign up again, these files were included in your March newsletter that was sent on March 31st.
Privacy is important to us!

We will not sell, rent, or give your name or address to anyone. At any point, you can select the link at the bottom of any newsletter email to unsubscribe or to update your interests.