Often you find vacant properties but you can't locate the owners. I was reminded last week of a very simple and effective way to get a forwarding address. My father in-law came into my office because he had been trying to find someone who owed him money and he wasn't having a lot of luck. He knew that the debtor had moved to another city, but that was it. He had tried going to the post office to get the forwarding address, but the post office informed him that they would only release a forwarding address to a law enforcement officer, licensed private investigator or under court order. I had a better solution… To get a forwarding address you simply have to send the person a letter (in my case I sent an empty envelope) and include the following clearly below the return address:
- Do Not Forward -
- Return Service Requested –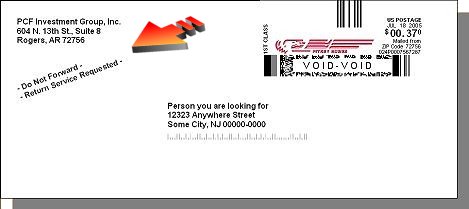 When you send this letter the post office will NOT forward it. What they will do is send the letter back to you with a yellow sticker that has the new address. Yes, it is that simple. In regards to my father in-law I sent the empty envelope and in about three days I received it back with the new address. My total cost…. one envelope and thirty-seven cents for postage.
You can use this technique to quickly locate absentee owners who have left a forwarding address with the post office.
For more great real estate, website and general business information subscribe to our newsletter