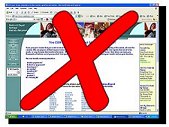 InvestorPro.com just purchased Soldin5Days.com which was a site that was attempting to copy our success and failed. InvestorPro.com also just celebrated another year anniversary of building websites for real estate investors. During this time we have seen MANY competitors come and go. Most of these competitors have no clue as to what it really takes to run a successful website business. They come into the market with big dreams, but soon fade away when they find out that building superior, functional and SUCCESSFUL websites is a difficult job that can't be taken lightly. Properly supporting these websites takes a knowledgeable staff that can provide superior support. A one man show simply can't do it.
The real down side of these companies coming and going is that they take unsuspecting customers with them. You pay a company to build your website and at first you just have problems getting service. Later you discover that your website isn't all it's cracked up to be and the server is often down. Finally SURPRISE the company goes out of business and your site is either gone or so broken that you have to start from scratch or pay a programmer hundreds of dollars to fix it.

InvestorPro.com is not the cheapest solution for websites, but we are the BEST solution
.
Don't be afraid to pay for quality products and service. In this day and age especially, the old adage "You Get What You Pay For" rings true. All those Do-It-Yourself tools and instant online sites aren't going to get you where you want to be. Professional services are always distinguishable on the Internet. A Do-It-Yourself site... well... everyone who happens to visit your site will know you did it yourself.

Yes, our sites are expensive and yes they are worth every penny. To put it in perspective just imagine if a professional site from InvestorPro.com only brings you "one" more deal a year than a cheaper alternative.
One $10,000 profit deal pays for a Gold site for 14 years!
Based on the $59 per month for a Gold site, one $10,000 deal per year is a return on your investment of over 1,400%, and that is based on only "one" deal.
Our sites are priced the way they are so that we can offer you the proven content and the service that your business deserves. We are likely one of the only companies that you will find to be "overstaffed: with techs. We do this on purpose and that purpose is to provide extra ordinary customer service.
Recent Email from customer who took the cheap route...
Dear Lynn,

Please don't get mad at me. I started to go with another website that was really inexpensive; however, once I started figuring out all that I needed it wasn't such a good deal after all.
I registered the domain name I settled on with their servers for $24.95. I'm about a 2 on a scale of 1-10 in computer literacy. You were kind enough to spend nearly an hour on the phone with me a month or so ago. I got excited about getting my own website, and I jumped the gun. Please forgive me. I'd like to get the Gold package on Monday or whenever its convenient for you. Your package really is ideal for me in spite of a few more dollars; well worth it!!! Thanks again for your help!
If you want a professional, hard hitting site that gets results then sign up for an InvestorPro.com site today.
For more great real estate, website and general business information subscribe to our newsletter